TLSv1 Is No More (Welcome TLSv1.1 & TLSv1.2!)
As of Wednesday afternoon (September 21st) we have removed a very old security method from our servers called TLSv1. This is an old encryption method that was used in years gone by, and it has now been replaced with the much more secure TLSv1.1 and TLSv1.2.
You may be wondering why this is important to you, and for many of your it may not be. But, if you have been a little slow to update your PC or your Mac this note may just save you some headaches when it comes to uploading your images through Lightroom and/or logging into your administrative account.
Lightroom
If you were previously able to connect to your Instaproofs account through our Lightroom plugin and you no longer are, that is a good indication that the TLS version on your computer may need to be updated.
Administrative Account Login
If you are having trouble connecting to the login page on the administrative site, that is a good indication as well that the TLS version on your browser may need to be adjusted to support the newer versions of TLS.
HOW TO ADJUST YOUR SETTINGS
---------------------------------------------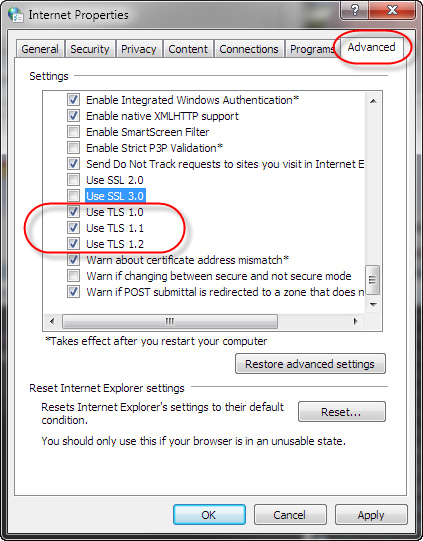 Internet Explorer & Lightroom Error (PC):
-----------
1. Open up Internet Explorer.
2. On the Internet Explorer Tools menu, click Internet Options.
3. In the Internet Options dialog box, click the Advanced tab.
4. In the Security category, check Use TLS 1.0, Use TLS 1.1, and Use TLS 1.2 (if available).
5. Note It is important to check consecutive versions. Not selecting consecutive versions (e.g. checking TLS 1.0 and 1.2, but not checking 1.1) could result in connection errors.
6. Click OK
Then try logging in through Lightroom once again

Firefox, Chome, and Opera (PC)
-------------
You can find detailed (though simple) instructions on updating your settings for these browsers, here: https://knowledge.geotrust.com/support/knowledge-base/index?page=content&id=INFO3299
Mac Users
-------------
You will simply need to make sure you are using an up to date version of the Mac OS. If you are unsure whether your browser supports the newer version of TLS, you can check it here: https://www.howsmyssl.com/

And that should do it! Good luck! :)