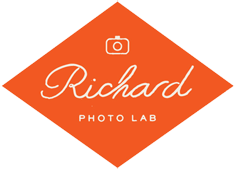 Richard Photo Lab Updates - Coming January 2018!
Are you a lover of Richard Photo Lab's fine art papers? If so, you're in good company, and this announcement's for you!
Beginning in January 2018 Richard Photo Lab's fine art paper options are being updated! Many of the previously available paper types are being retired, and many new options are being made available.
What Paper Types Are Staying?
A couple of your favorite paper types are sticking around:
Canson BFK Rives
Hahnemuhle Photo Rag
What New Paper Types Will Be Offered?
Richard's new fine art paper options include the following:
Canson Infinity Baryta Prestige
Canson Infinity Edition Etching Rag
Canson Infinity Platine Fibre Rag
Innova Fabriano Printmaking Rag
Moab Juniper Baryta Rag
A Closer Look
Want more details and a closer look at some of these awesome papers? Richard Photo Lab has put together a fact sheet, complete with images, showing and describing the differences between each of their offered fine art paper types.

When Will These Changes Happen?
Be on the lookout for these new paper options sometime during the first week of January 2018!
Have Questions?
Have questions about these changes? Shoot us an email at support@instaproofs.com.